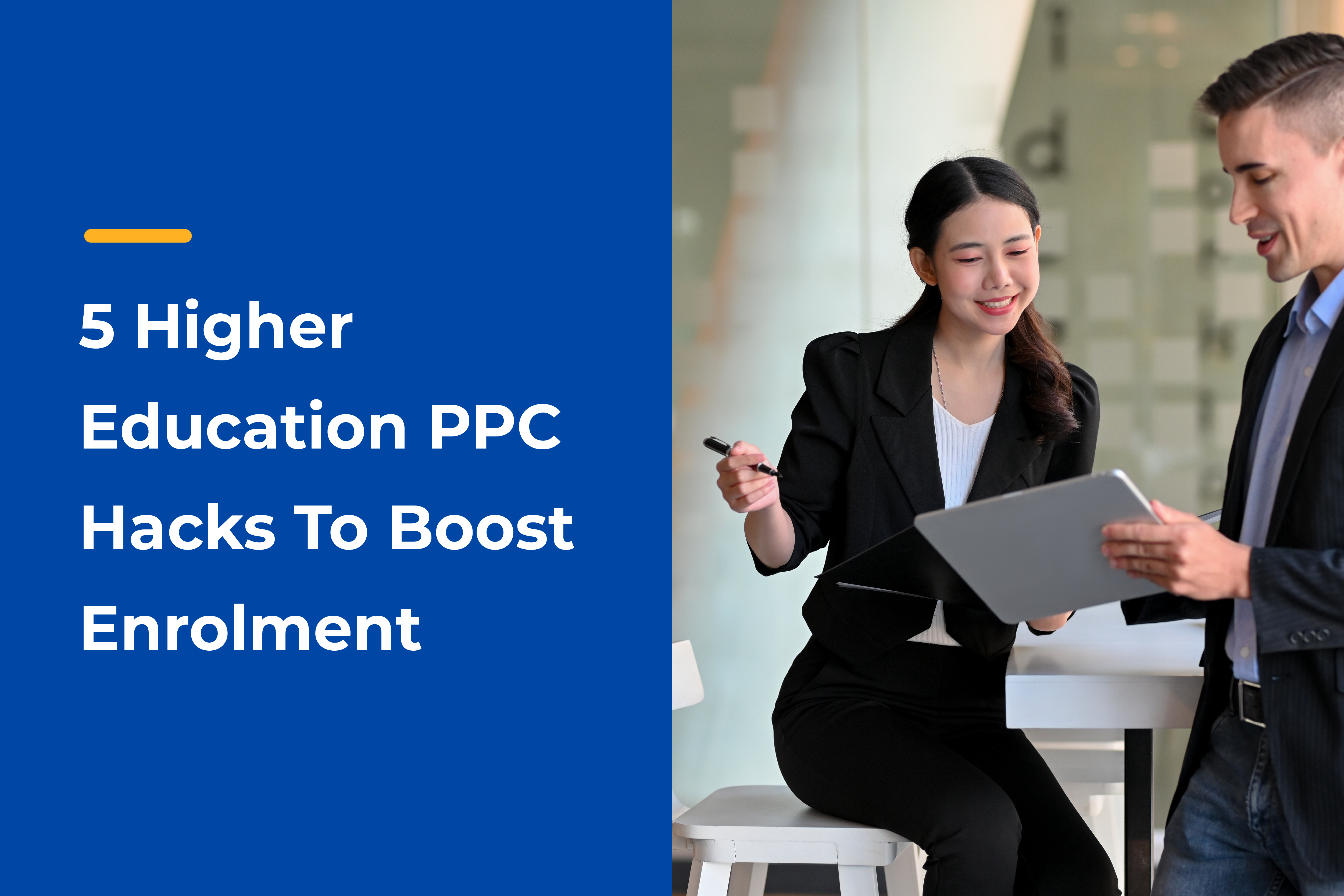 As the higher education landscape becomes increasingly competitive, colleges and universities worldwide are struggling to get noticed by potential students. One of the key ingredients of a successful student enrolment strategy is an effective PPC campaign.
PPC, which stands for pay-per-click, is a model of internet marketing in which advertisers pay a fee each time one of their ads is clicked. Simply put, it's a way of buying visits to your site (rather than waiting to earn those visits organically).
There's a wealth of opportunities in paid advertising. You can reach new students, geo-target specific cities where your campuses are and even, remarket to potential students that visited your site but haven't converted yet. There are a variety of PPC ad networks to choose from: search engines like Google, display advertising like YouTube and social media like Facebook and Instagram.
Today, we'll share 5 PPC hacks that give you the best return on investment based on our own experience of running PPC campaigns for higher education clients.
1. Leverage Google's Machine Learning & Intelligence With Smart Display Campaigns
After running successful Google Smart Display campaigns for some of our clients, most of my team members will suggest running this type of campaign.
However, it is important to note that Google Smart Display campaign is not a miracle pill.
Past performance data, especially conversion history, is crucial for Google Smart Display campaigns to be effective. Therefore, it's recommended to create Google Analytics goal as early as possible and import these goals into Google Ads. These goals could be brochure download, 1-1 consultation, webinar sign up or registration for event, masterclass or open house.
You can only choose automatic bidding for this type of campaign. Bidding strategies such as maximise clicks and eCPC are not allowed. Here are the 3 bidding strategies available for Google Smart Display:
Maximise Conversions

Target ROAS

Target CPA (where you can pay for conversions)
Bear in mind that if there is insufficient conversion data, the performance might be poor and the campaign is likely to underspend. You'll also need to give Google more time to learn and optimise the campaign.
At the core of Google Smart Display campaigns are automated bidding, automated targeting and automated ad creation. The benefit is that you're leveraging Google's machine learning and intelligence. But this is also its disadvantage. Besides being overly reliant on Google's intelligence, there is not much you can do to optimise such campaigns.
You can, of course, create and optimise your ad copies. However, this will only create a significant impact if you have a new offer or a more irresistible offer.
On the other hand, I would advise that you try playing around with the bidding strategies. This has more impact on campaign performance. For example, I've set $200 Target CPA (the maximum amount) for one of my clients. But the campaign was still performing poorly due to low conversion data. However, after switching to maximise conversions, the leads skyrocketed.
2. Give Your Ads More Prominence With Google Ad Extensions
Without a doubt, Google Ad Extensions help maximise the performance of your ads by expanding your ads with additional information and thus, increases your ads' clickthrough rate. Hence, you should be adding as many Google Ad Extensions as possible.
However, there are a few Google Ad Extensions that I would like to highlight today. These ad extensions are valuable to the higher education industry.
Structured Snippets
In the list of available headers for Structured Snippets, there are 2 headers that you should use for your higher education ads:
This is a terrific way to highlight the courses and programmes that your school offers.
Image
This is a new Google Ad Extension where you can upload rich and relevant visuals to complement your existing text ads. Google recommends that you upload compelling visuals of products or services that enhance the message of your text ads.
You can thus showcase your campus and graduates with this ad extension. I strongly recommend this, rather than using branding conceptual images that might not be as relevant. People should be able to tell at a glance that you're promoting a bachelor's degree or advertising for a university.
Lead Form
Similar to Facebook and LinkedIn lead generation campaigns, Google also has lead form extension. This allows people to submit their information in a form directly in your ad.
You can download your leads in a CSV file or create a webhook integration to receive leads directly in your customer relationship management (CRM) system. Note that you can only download leads submitted in the last 30 days.
3. Keep Your School Top Of Mind With Facebook & Instagram Lead Generation Campaigns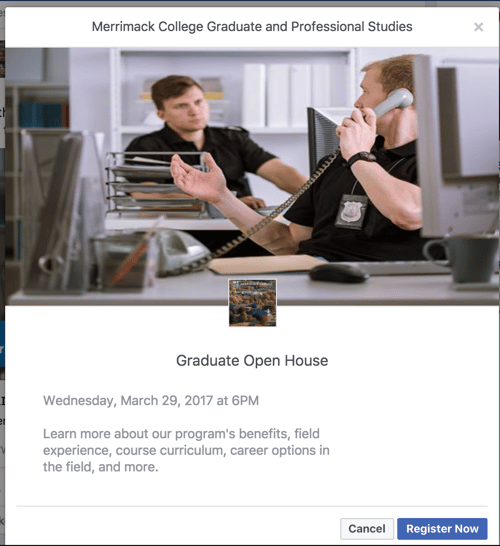 Source: HubSpot
After running numerous Facebook and Instagram lead generation campaigns for higher education clients, we can confidently say that this type of campaign works really well for this industry. This is especially so if you have a compelling offer that requires low commitment like downloading a free programme brochure.
Interest targeting makes your ads appear in front of people who are interested in the topics you've specified. This would be ideal for campaigns that are targeting potential students in the Awareness or Consideration stage (unlike Decision stage where people are actively searching on Google Search). Such campaigns keep your school and programme at the top of your target audience's mind, prompting them to enquire in detail when they intend to further their studies.
If you're targeting a younger audience, you can consider running Instagram ads. As of October 2021, roughly 32% of global Instagram audiences were aged between 25 and 34 years old. Over two thirds of total Instagram audiences were aged 34 years and younger. Therefore, this social media channel is particularly attractive for marketers who are targeting the younger generations. (Source: Statista)
4. Run LI InMail Lead Generation Campaigns For Events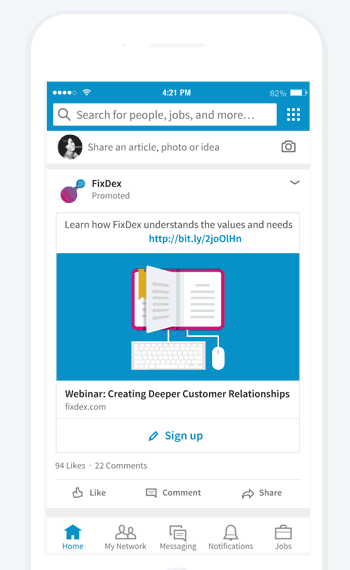 Source: LinkedIn
For most of our higher education clients, we usually run LinkedIn InMail campaigns to get more leads for their upcoming events. For example, webinar, 1-1 consultation and masterclass.
LinkedIn InMail campaigns allow you to send direct messages to your prospects that appear in their messaging inbox. This ad requires a sender, the one who is sending this message ad. Therefore, it feels more personal because someone from the school (eg. the programme head, admissions team) is inviting the user to the school's event personally.
It is recommended to run LinkedIn InMail campaigns on accelerated delivery so you book time in your target audience's calendar weeks ahead of the actual event date.
You can also choose to add a lead form so it becomes a LinkedIn InMail lead generation campaign. Similar to Facebook lead generation campaigns, LinkedIn ensures that users don't leave the platform when they're filling up the lead forms and hence, creates a seamless experience. Users are also more likely to sign up because some of the form fields will already be pre-filled (information is pulled from their LinkedIn profile data) and thus, creates a hassle-free experience.
With LinkedIn, you're also targeting a quality audience in a professional context. The targeting options are more precise and career-related than Google and Facebook. Here are some targeting options available on LinkedIn:
Seniority

Years of Experience

Job Function

Company Industry

Company Size
5. Spark Conversations With Google Call, Facebook Message & LinkedIn Conversation Campaigns
Honestly, we rarely run Google Call, Facebook Message and LinkedIn Conversation campaigns. Only one of our higher education clients ran LinkedIn Conversation campaigns while another client (not belonging to the higher education industry) ran a Facebook Message campaign.
However, all these campaigns are essentially about sparking conversations with potential students.
Personally, I feel such campaigns are good, especially for higher education which has a long sales cycle and requires more nurturing. By including this human interaction, potential students will have firsthand experience of how friendly the staff is. It also creates an amiable image for the school.
When I ran the Facebook Message campaign for my non-higher education client, many interested people sent queries to our client's Facebook page. This shows that the campaign is effective in creating conversations between potential customers and the brand. Of course, you can adjust the destinations: Messenger, WhatsApp, Instagram Direct. I would recommend choosing the messaging apps that you and your team are comfortable with.
However, such campaigns also come with drawbacks. For one, these campaigns require customer success teams to address customer needs and provide guidance. In this case, you'll need student recruitment staff to be available and ready to answer queries. This means that you'll need a substantial amount of time, effort, manpower and resources for such campaigns.
To solve this, we recommend that you try running a LinkedIn Conversation campaign. This type of campaign is similar to a chatbot where you create a message decision tree and prepopulated responses. You'll then drive engaging conversations with your audience through a choose-your-own-path experience. Since users can't ask you questions directly and that you don't need to reply, this will help decrease the amount of manpower and resources needed from your customer success teams. Also, you can set up multiple call-to-action (CTA) buttons that link to your landing pages or open a LinkedIn lead form. For instance, visiting the school website, visiting the programme page or signing up for 1-1 consultation via LinkedIn lead form.
Improve Your Digital Marketing Efforts & Reach Your Student Recruitment Goals Today
Armed with these tips from our digital marketing arsenal, you should be well on your way to realising PPC campaign success. Interested in learning more about PPC? Check out our step-by-guide on how to run PPC campaigns for higher education.
However, bear in mind that you should have a growth mindset of testing and learning. What works for our clients might not work for you, just like how every school and programme are unique.
As data-driven marketing consultants, we understand that benchmarks are vital in measuring performance. Thus, we've compiled the CPC, CPL and Conversion Rate for Higher Education in the ASEAN region so you can make strategic PPC budget decisions. Fill up the form below to download this exclusive report.