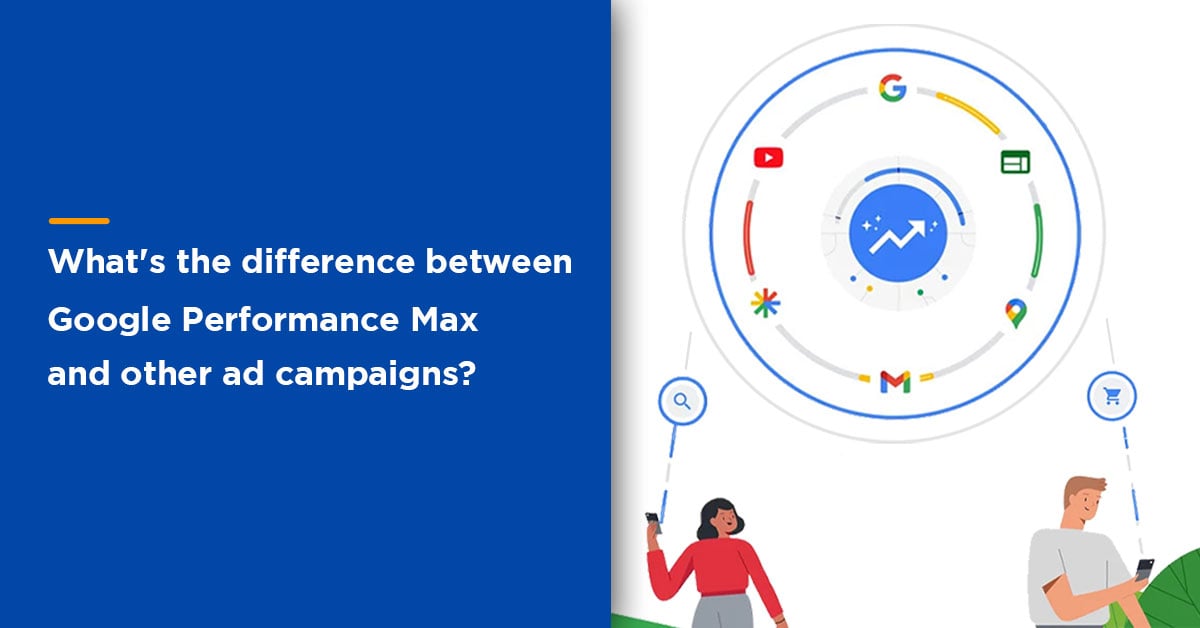 If our Account Manager sends you this article, you've probably been introduced to Google Performance Max. If this is your first time hearing about it, you'd be wondering how this campaign type compares to other ad approaches and how well it works, yes? Not to worry! This blog intends to serve as a resource to the queries you have on top of your mind.
What is Performance Max (PMax)?
Performance Max is a new goal-based campaign which provides Google Ad (formerly AdWords) users direct access to the entire Google Ads inventory such as YouTube, Display, Search, Shopping, Discover, Gmail, and Maps within one campaign.
It is an automated Google Ads campaign that uses machine learning to reach potential customers by selecting the most relevant ads and adjusting bids to what it deems most appropriate to serve your selected campaign goals.
What's the difference between Google Performance Max and other campaigns?
PMax allows advertisers to optimise their campaigns for conversions rather than clicks. This means that the campaign focuses on getting users to take a specific action on the advertiser's website, such as making a purchase or filling out a form. It uses machine learning to optimise the campaign's bids, targeting, and ad creative to increase the likelihood of conversions.
Other campaign types in Google Ads, such as Search and Display campaigns, can be used for conversions but are usually optimised for clicks.
What is the difference between Google Smart Display and PMax (specifically)?
PMax covers more placements than Google Smart Display.

Currently, Google Smart Display ads can only appear on the Google Display Network, which comprises Google properties like YouTube, Google Finance, Gmail and others that offer display advertising and a network of millions of partner sites and mobile ads on which you can place your ads.





On the other hand, PMax ads can appear on all Google's channels like YouTube, Display, Search, Discover, Gmail, Maps, and more.





PMax requires an audience signal, while Google Smart Display does not.

It allows us to inform the algorithm about your ideal target audience. Nonetheless, audience signals are not used for actual targeting. They are used as suggestions to steer the algorithm in the right direction. This function is introduced uniquely to Pmax campaigns.





PMax focuses on maximising opportunities.

Google Smart Display allows content, topic, age and gender exclusions; these functions are not available on PMax as its focus is to increase your reach towards all interested in your product beyond your targeted audience.
What is the difference between Smart Shopping and PMax (specifically)?
A PMax campaign has a close resemblance to a Smart Shopping campaign. But here's the difference: Smart Shopping campaigns only focus on maximising sales conversions; a PMax campaign allows us to select multiple conversion goals to prioritise what we want to achieve. Examples of different conversion goals are shown below:
Update: PMax has now replaced Smart Shopping. Smart Shopping campaigns can be upgraded to PMax campaigns with a one-click tool in Google Ads, and the same tool is now available for Local campaigns.
What are the main benefits of Performance Max?
Conversion Focused




Performance Max has targeting settings based on the conversion goals selected in the campaign setup. With that, your marketing objectives are always the main focus. It uses smart bidding to look at historical search behavior and contextual data to predict the likelihood of a conversion. Then it increases your bids when a conversion appears more credible.





Easier Ad Optimisation & Ad Copy


As explained, ads are built and tested by Google to make different combinations of ads. The ads that perform the best according to your campaign goals will be shown more often.



Full Channel Coverage




Performance Max makes use of all channels - managed under one campaign. Full coverage enables the ad to reach a wider audience and gain more visibility. Besides, it also allows for more data to be collected, which in turn feeds the campaign with more audience insight to improve your campaign performance.
When will we suggest Performance Max for you?
You have sufficient assets (text, images, videos) ✅

You have a specific conversion goal

(eg: driving online sales, lead generation, etc.) ✅

You want more ad exposure across different channels with a minimum budget ✅

You want to achieve a wider reach and conversion value beyond keyword-based search campaigns

✅




When will we NOT suggest Performance Max for you?
You have no prior campaign history.

Performance Max relies heavily on data to optimise bids and targeting. It should be used alongside your core, keyword-based search campaigns, not alone. Google needs to have more information about your past campaign results for PMax to perform to its fullest potential.





You do not have the budget to allow time for Performance Max to "learn".

One thing to note about all of Google's ad campaigns is that when you launch a brand-new campaign, the performance will fluctuate as Google Ads optimises for best performance.

We'll need to run the campaign for at least two weeks and refrain from making any changes before evaluating your campaign performance

. Since every new PMax campaign is an experiment, Google will need time to learn about your audience to best promote your campaign.



Case Study - PR Application Consultancy
* The name of our client will remain undisclosed for confidentiality.
Our client specialises in providing assistance to individuals and companies who are striving for a positive outcome for all immigration applications.
Problem
(it's already running Google Search Network, Google Display Network Remarketing, Google Smart Display, YouTube, Facebook Lead Ad, LinkIn Content Lead Ad)
Solution
We decided to run a PMax campaign for them because:
Google Smart Display resulted in many leads and PMax is similar to it (but with more placements)

Client has conversion data and many assets (banners & videos), including data for Audience Signal (Custom Segment & Your Data)

Client's priority seems to be the quantity of leads (rather than the quality of leads)
Results:
We utilised $1,000 for first month and increased budget in later months due to its successive performance
In the first month alone, the results were significant:

2nd highest no. of leads at 159

4th lowest CPL at $91.34
We hope you've gained a greater understanding of Google Performance Max. But if you're still confused, rest assured that your digital marketing campaign is safe in our hands. Our team of Digital Marketing Consultants will always review your campaign briefs to evaluate your goals, buyer personas, budget and campaign objectives before making a recommendation on which Google Advertising platform is best suited for your campaign.
After all, this is why you hired us! Got more questions? Feel free to reach out to your account manager or contact us here.