When you engage with an agency to develop your digital marketing strategy or in this case, an SEM Campaign, you've essentially engaged in a working relationship that'll require the active involvement of both parties; the consultant and you.
The idea of working alongside each other simply means that both parties are contributing to the success of the campaign; whether it's receiving sufficient input about your brand for a strategy to be formed around that or how your budget creates more room for the effectiveness of the campaign.
Ever thought about how our partnership will make your SEM campaign successful?
Well, let's dive in.
1. Your Brand Insight Is Valuable
We identify with the ideal reality that your brand could be the best, but really, the question begs, how do you stand out from the rest?
Many brands portray themselves through the sweetest words that don't carry enough substance. However, we believe that you have a unique selling proposition that would draw the right attention.
Upon signing a deal with us, you will be handed a Business Consultation Questionnaire provided by our team. In this questionnaire, you'll be given questions that dive into the insights about your brand and where you stand in the market. These insights will include key marketing messages, the problems your product or service solves and many other prompting questions.
As you answer them with clarity and depth of understanding about your brand, it'll give us substantial material to form a strategy that will achieve your online marketing goals.
Your input combined with our strategy and skillset will build a rewarding path.
In the meantime, here's a couple of tips to help you with the questionnaire! (Just in case you need them) 😊


a. Steer clear from the fluff
In other words, be clear and direct with your answers. Fluffy language could misdirect our understanding and the crafting of brand messages which could affect the accuracy of our delivery in meeting consumers where they're at.


b. Communicate with your sales team
After all, they're probably equipped with tactics and approaches in closing a deal, and possibly an understanding of the ideal audience they're reaching out to. Receiving their input could benefit you in answering the questionnaire.
Pro Tip: Marketing and Sales contribution could create a well-thought-out Buyer Persona that will result in successful SEM targeting.
2. You Need To Know Your Buyer Persona
A crucial aspect of SEM targeting is the contribution of who your customers are; through this, your digital consultants are able to target with accuracy.
Speaking of a target audience, what better way to target accurately than to build a Buyer Persona. Now, you may be asking, what is a buyer persona exactly?
We're glad you asked. 😉
By HubSpot definition: A Buyer Persona is a semi-fictional representation of your ideal audience.
Personas help you step into the shoes of your ideal target buyer and form an educated assumption through market research about their demographics and psychographics; giving you a deeper understanding of their goals, pain points, habits, motivations, consumption behaviors and so forth.
Here's a visual example (courtesy of clickTRUE) to point you in the right direction: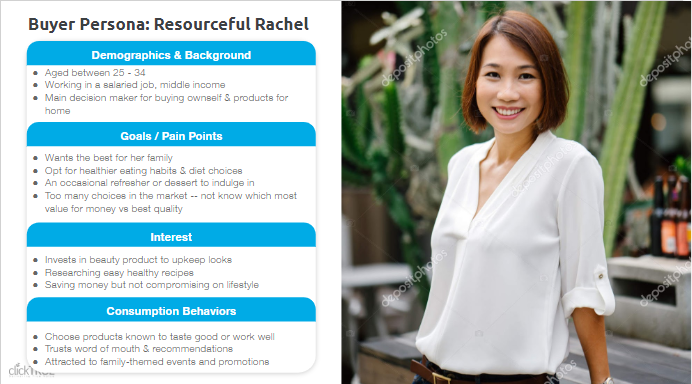 So, how do you build a Buyer's Persona?
Well, we've got a few practical tips to help you get started:
Search through your contact database to discover trends about how your customers (or leads) could be consuming your content offerings.

Review the form fields that are currently on your website and optimize them to capture significant persona information.

Have in-depth conversations with your sales team. Consider their feedback and generalizations about the different types of prospects they converse with in order to convert them into a customer.

Host interviews with customers and prospects through a phone call or in person to form a thought process around the likability of your product or service.
Require assistance? Our team is equipped to help you!
3. Your Goal Should Remain Constant
Another factor in an SEM strategy is to intentionally set your most significant goal (keep in mind that it's only one goal) throughout the course of the campaign; having a clear and focused message that targets the pain points of your buyer's persona.
Whether your goal is to increase traffic or spread awareness, the idea is to have a purposeful objective that directly targets your ideal audience with specificity.
Having too many goals within a set of ads will weaken the accuracy of the marketing messages and create confusion that will eventually distract the audience from an action you'd want them to take. Furthermore, each goal requires a specific optimization tactic, hence that creates an obstacle in maximizing your campaign performance.
On the off chance that you're unsure about your business objective, you could contact your consultant and have a discussion on setting a goal that will be of beneficial use to your business and better align with what you'd want to achieve.
4. Your Budget

With Context

; Makes A Difference
Let's be real - there are hundreds of brands all over the globe that are competing for the top placement in Google's search ranks. And while the competition is constantly expanding, Google's algorithm works to prioritize higher paying, relevant ads.
Thus, your budget coupled with context (brand insights, buyer's persona, well-defined goal) does make a difference and ties every sphere of our strategy for the success of an SEM campaign; that includes, a thumb-stopping creative, eye-catching copywriting, and so forth.
Often with budget constraints, your ad's online presence may only be visible for an hour or two within a day, putting you at the risk of not receiving as many clicks as you'd like and not being visible to high quality searchers.
This is the reason a thorough preparation before the launch of a campaign is crucial. Together, we can make the best use of your budget that's within your capacity to reach these high quality searchers.
However, a sizeable budget with relevant context enables your ad to sustain longer in the day which in return, increases the chances of beating your competition. This factors in a larger number of people viewing your ad and therefore converting as a result. With Facebook, they also offer an additional benefit that progressively identifies a more compatible target audience while lowering the cost per result; making your SEM efforts worth every penny.
Having said that, worry not. When budgets are relatively average, it is in our ability to strategize in maximising your ROI. Whether it's to narrow down the targeting or to minimize the advertising inventories (choosing either Google or Facebook); we will work towards a strategy that best fits with your budget and communicate to better meet your expectations.
In the event, you have a strategy in mind and perhaps you'd like to implement it in the campaign, the most appropriate step would be to seek your consultant in order to gain a wholesome perspective of the approach. That way, it strengthens the core of our strategy to better meet your expectations.
To sum it all up...
We're certain that these tips will build you and structure guidelines to help in achieving beneficial SEM Campaign results for your business.
Don't forget the partnership bit! Your Digital Marketing Consultants will be thrilled to work alongside you. 😄
Tell us, did you find this helpful? Let us know if you have any questions! We'd be happy to help answer them.
EXCLUSIVE:
ClickTRUE Consultants go through a detailed 30-point-checklist before the launch of an SEM Campaign.