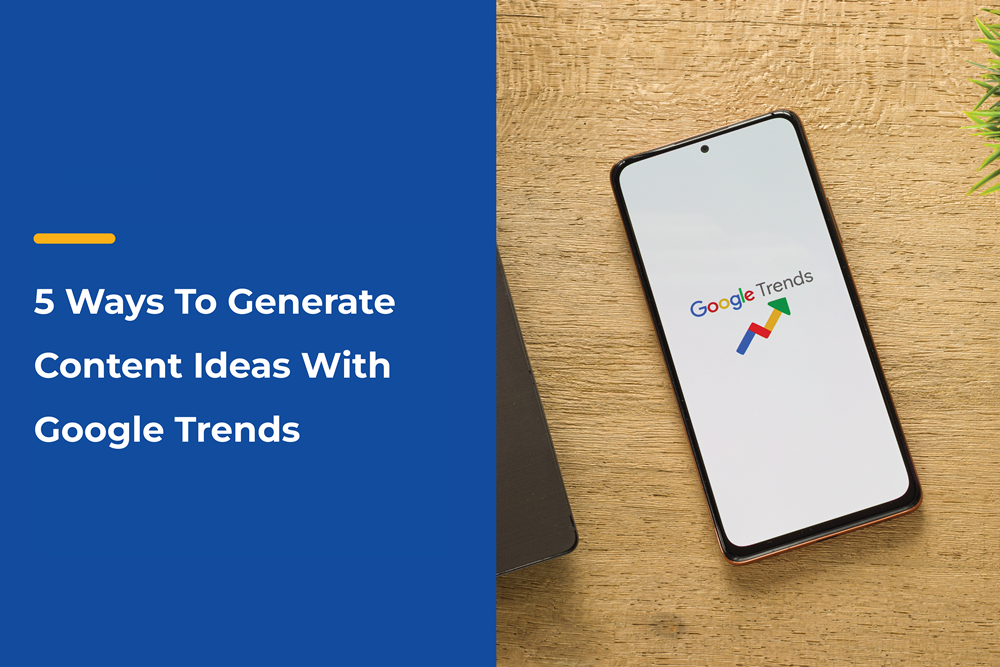 Running out of content ideas for your blog and social media?
Fret not, Google Trends got you covered!
Google Trends is a free tool that analyses the popularity of top search queries in Google Search across various regions and languages. Data is visualised in graphs and charts to compare the search volume of different queries over time.
Learn how you can leverage Google Trends to generate killer content ideas that will boost your reach, engagement and SEO ranking.
1. Start With An Example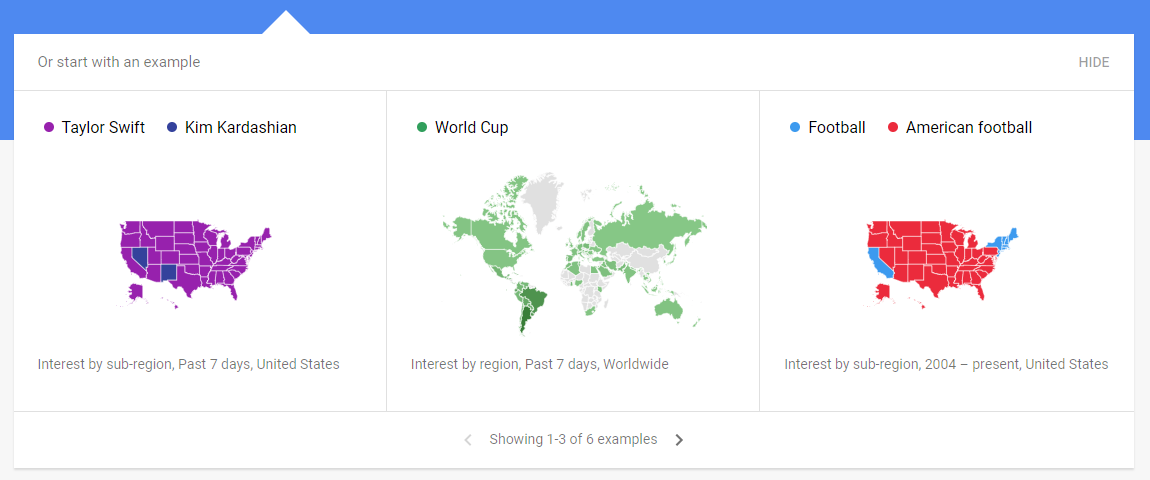 If you can't think of a search term or topic or simply have no broad topic that you want to write about in your blog or social media post, you can look at the examples provided by Google Trends. These are search terms or topics with high interest by region either in the US or worldwide. This gives you a rough idea of how Google Trends visualises data: maps and line charts. It also shows how Google is able to compare 2 or more search terms and topics.
Some of these comparison examples are interesting and might even be relevant to your industry. For instance, "Football" vs "American Football" might be a content idea you can explore if you sell sporting goods or sports equipment. Likewise, "Pho" vs "Ramen" vs "Soba" is another interesting content idea for restaurant owners or supermarket owners who sell noodles. Your content can be an outright comparison of A vs B or a subtle comparison like 3 reasons why A is better than B or 5 benefits of A over B.
Let's say I'm a digital marketer who works at an agency. The examples might not be as relevant to me. However, there is an exception. I can create a social media post to engage fans and followers on the topic of football. This shows that my company values fitness and also, paints an active brand image.
2. Enter A Search Term Or Topic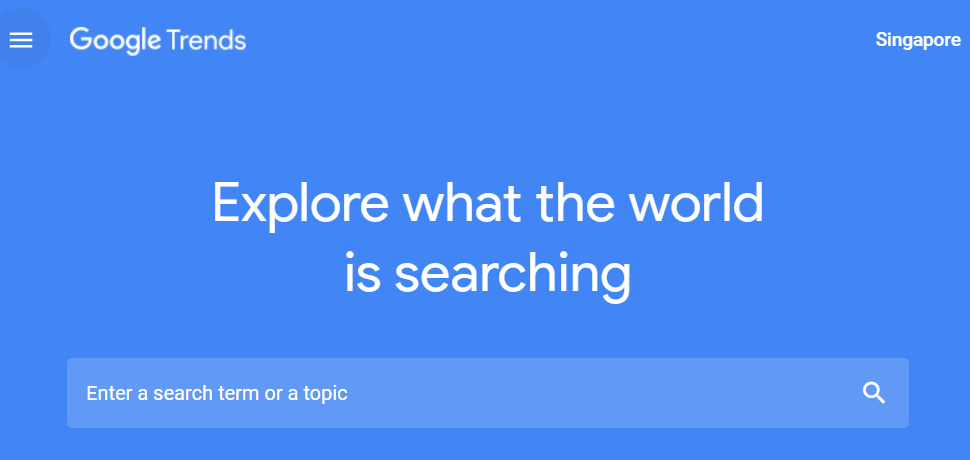 The first thing you're greeted with when landing on Google Trends website is to enter a search term or topic. If you have an inkling of the broad topics you'll write in your blog or social media post, you can type it here. These could be top level ideas or big topics that your content will revolve around. You can also consider inputting keywords related to your brand, product, service or industry. Next, Google Trends will show you the interest over time in your selected country and date range.
To generate content ideas for your blog or social media, it's recommended to scroll down and examine the related topics and related queries. This is where you'll see popular and related topics and search queries with the biggest increase in search frequency. By crafting content around them, you'll leverage these trends that resonate with people at this time. In fact, you might even improve your search engine optimisation (SEO) ranking.
Note that you can also compare 2 or more search terms and topics.
For example, I keyed in "digital marketing" and here are the related topics and queries in Singapore. Based on this data, I can create blog posts focusing on "business-to-business" and "advertising campaign". These related topics marked with "Breakout" means that there's a tremendous increase in search frequency. Focusing your content on these topics will thus improve your SEO. The related query of "digital marketing services" is also useful. This highlights that the query has a 40% increase in search frequency since the last time period. Perhaps, it's a good time to update the digital marketing services page on our agency's website.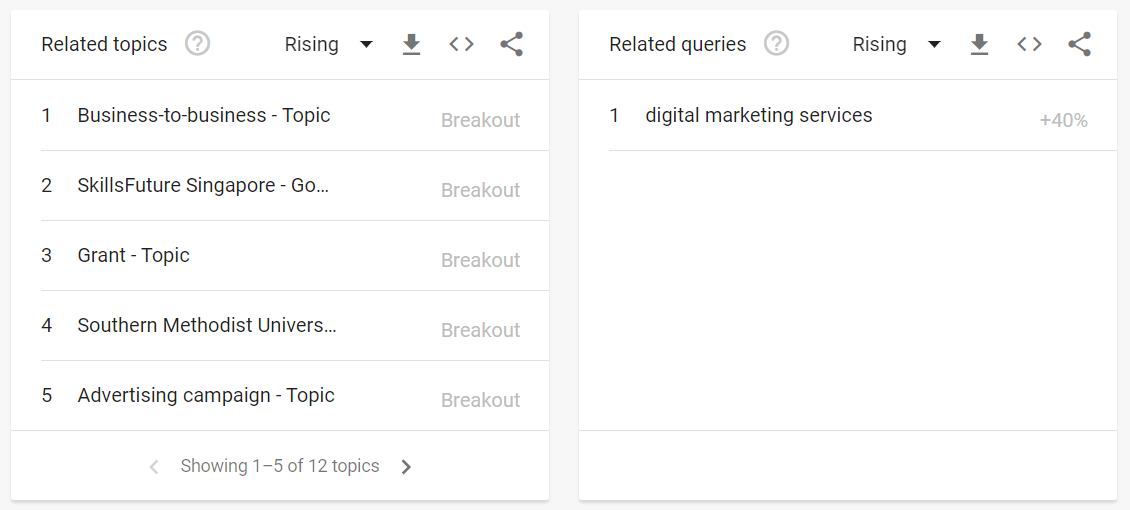 3. Find Out The Latest Stories & Insights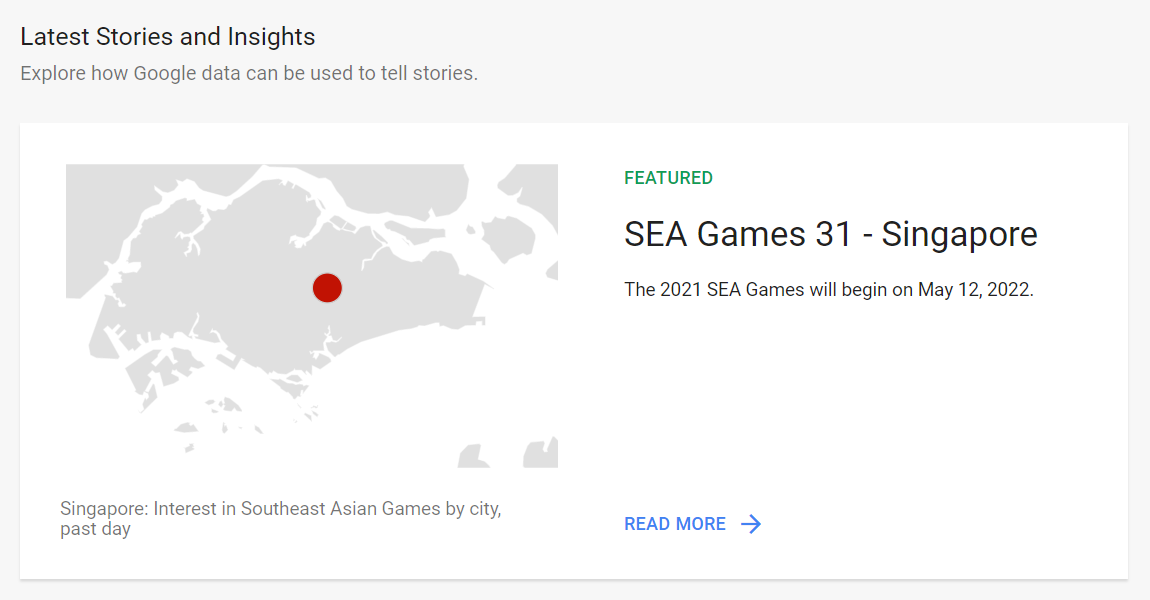 As you scroll down the Google Trends website, there's a section on "Latest Stories and Insights" where Google will use its data to tell stories.
Right now, Singapore is featuring the SEA Games. Some useful data and insights provided are the search interest in SEA sports, related topics and more. If you visit Google Trends of another country, there may be more stories and insights. For example, US is featuring 2022 WNBA Playoffs, Pride 2022, 2022 NBS Finals, Ukraine, 2022 Shopping Trends and more.
The benefit of this section is that it highlights major events and concerns that citizens in this country are interested in. You can tap into them and try to weave your brand, product or service together with these events. This is a great way to highlight brand values, especially when these events are related to causes that your company supports. For example, going green or being environmentally friendly.
If I'm planning to expand our agency's client base and reach new markets like the US, I might craft some social media posts about Pride 2022. This will show that our company embraces diversity.
4. Keep Up With Latest Trending Searches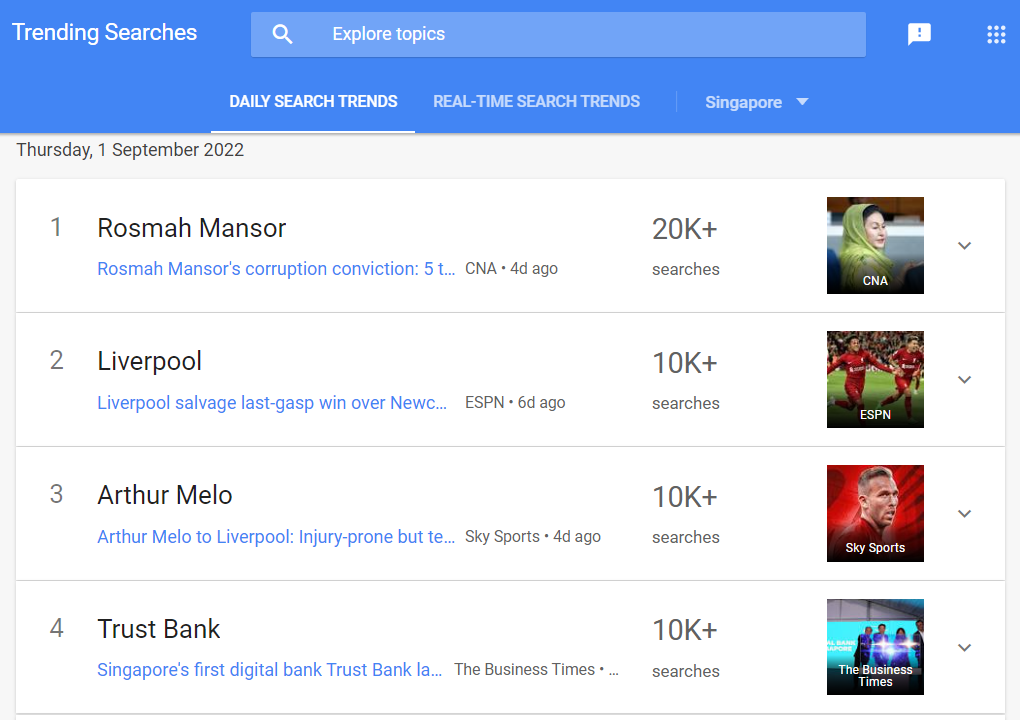 The next section, Recently Trending, is where you'll learn the latest trending searches. You can click on "More Trending Searches" to learn daily search trends and real-time search trends.
Precisely because this features trending searches, it's recommended that you use this to generate content ideas for your social media. With social media, you can craft content faster since it's shorter than a blog post. In this case, there isn't a need to weave your brand, product or service together with these trending searches. Instead, it's about joining a conversation. Your brand could join the conversation on these trending searches to showcase your brand personality.
Let's look at the trending searches on 1 Sep 2022. Well, there isn't anything relevant for our digital marketing agency. However, if you're a finance blogger, the Trust Bank news might be relevant for you. Immediately, you can craft a short social media post to announce this new bank. You can also choose to engage your followers by asking what they think about this new bank. Besides social media, this might also inspire you to create a series of blog articles on Trust Bank such as the background information of this new bank (who they are), their products and services like savings account, credit card and insurance.
5. See What Was Trending On Google By Year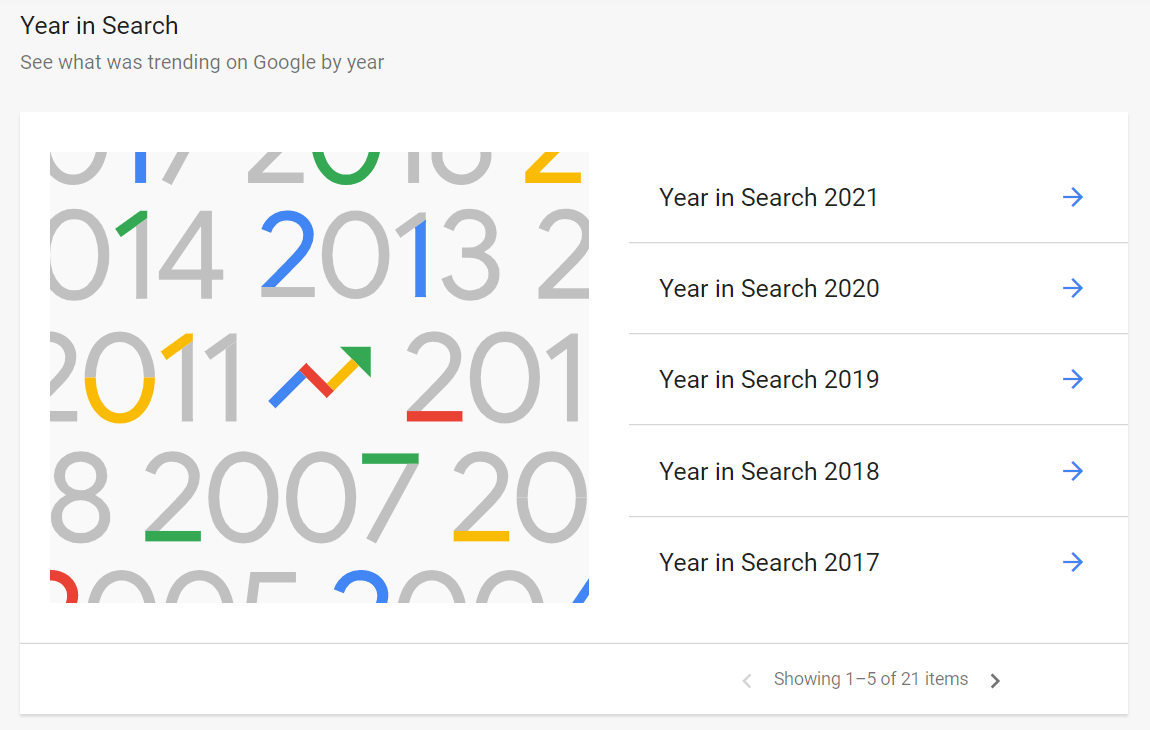 This is where you discover what's trending in your country in the specific year. Google even breaks them down into categories like:
Searches

News

Movies

People

TV Shows
Although this isn't up-to-date, they're still valuable in offering a glimpse of what everyone was searching in that year. If these search terms and topics are relevant, you can consider building content around them.
For instance, I checked what was trending in Singapore 2021 but there was nothing relevant. Firstly, this is due to the location, Singapore, which doesn't have many categories. Secondly, not many people would search digital marketing.
On the other hand, the United States had more categories. The "how to be" category will be valuable if you provide counselling or therapy services in the US. If you sell consumer products, you might want to take a look at "sustainable products" category. "Near me" category just reinforces the fact that if you own a bar, you should definitely create a Google business profile. By adding your business address, people will be able to know the location and directions to your bar when they search on Google. If you're an editor for a lifestyle magazine, the "near me" category might even inspire you to write a series of best bars, movie theatres, bowling alleys at certain cities in the US.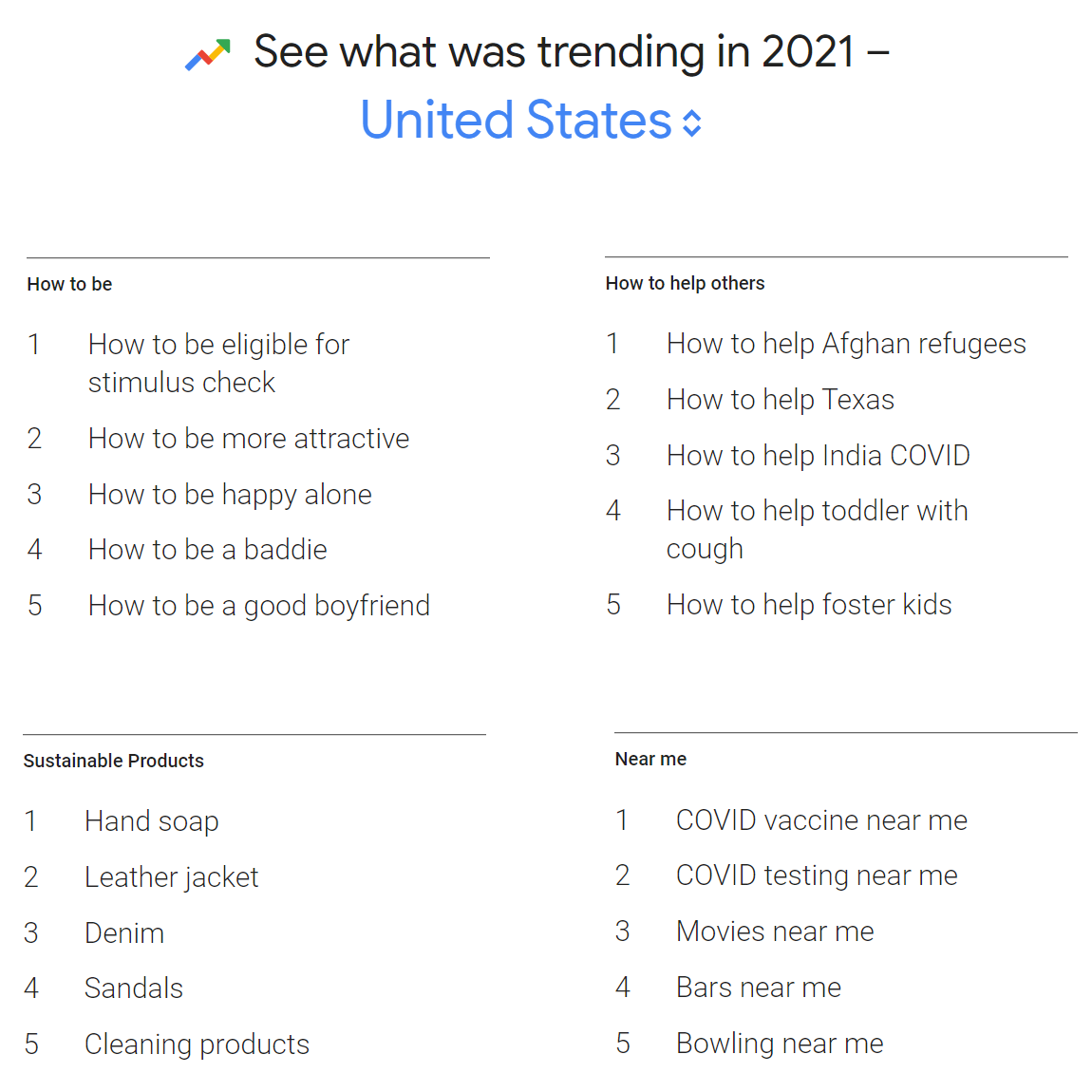 Start Generating Content Ideas & Building Trending Content
Google Trends is a great tool for planning your content. It helps you generate content ideas and build trending content for your content and social media marketing. However, there are other elements in a content strategy: audience research, content creation, content promotion and more.
Learn how we can help you enhance your content strategy with downloadable content offers, video content, email nurturing and more.