Contributed by Aaron Francis, Deborah Raj and Diana Lee.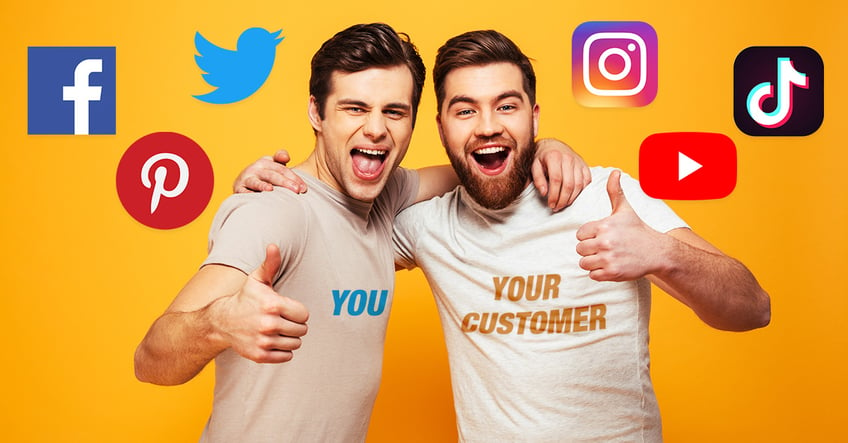 Chances are, you either own a business, lead a business, or work in a business.
And if so, the pressure is almost constant for you to deliver more. More sales, more revenue and more profit.
With that, you're even more conscious about where money is spent in your marketing efforts. So when it comes to social media, you'd also use most of your bandwidth, and creative efforts to highlight your offer, benefit and USP clearly through your content.
And you absolutely should!
But is that enough to make you stand out? Would that suffice to make your prospect choose you among other products? We all know that a buyer's journey isn't that simple.


Here's a brewing issue we don't acknowledge enough
People nowadays - you, me and your audience - are more sceptical than ever. We don't trust people (and brands) easily, we don't believe promises that are "too good to be true" and we're faced with too many options, and the suffocation of information overload.
With every scroll of a thumb, we are treated with a buffet of ads.
Facebook and Instagram's algorithm tailors our newsfeed to display products that are categorized under our interest. However, when ALL of them are on promotion, ALL of them claim to solve our problems, ALL of them claim to be the best, what would be your next course of action?


Be real - you'd investigate (ahem, stalk) them first
Before you commit to a relationship (product), you'd do your best to find out more about what defines them (purpose), and you'd want to check their history (testimonials/reviews), to see if you can trust them. Right?
Ladies and gents, we do the same before we make a financial commitment!
Simon Sinek, a brilliant advertiser and author, discovered that there was something else at play with brands such as Apple and Google. These brands are driven to innovate and they are consistently inspiring the world with a growing group of loyal followers.
He called this concept, the Golden Circle. A discovery that starts from why you do what you do, which follows into how you stand out from your competition and what exactly are you selling.
Many organisations are particularly focused on posting WHAT their business offers and HOW are they different from their competitors, but what they don't realize, is that customers will only make a purchase decision, once they "feel" that the brand is trustworthy.
Your actions (online conducts to value your customers)
speak louder than your words. (what your product claims)
In other words, brands that reinforce their WHY will boost the confidence of a potential buyer to make a purchasing decision, and build a solid base of returning customers.
With that, here are 3 ways you can engage with your prospects and customers through Social Media.
1. Create purposeful content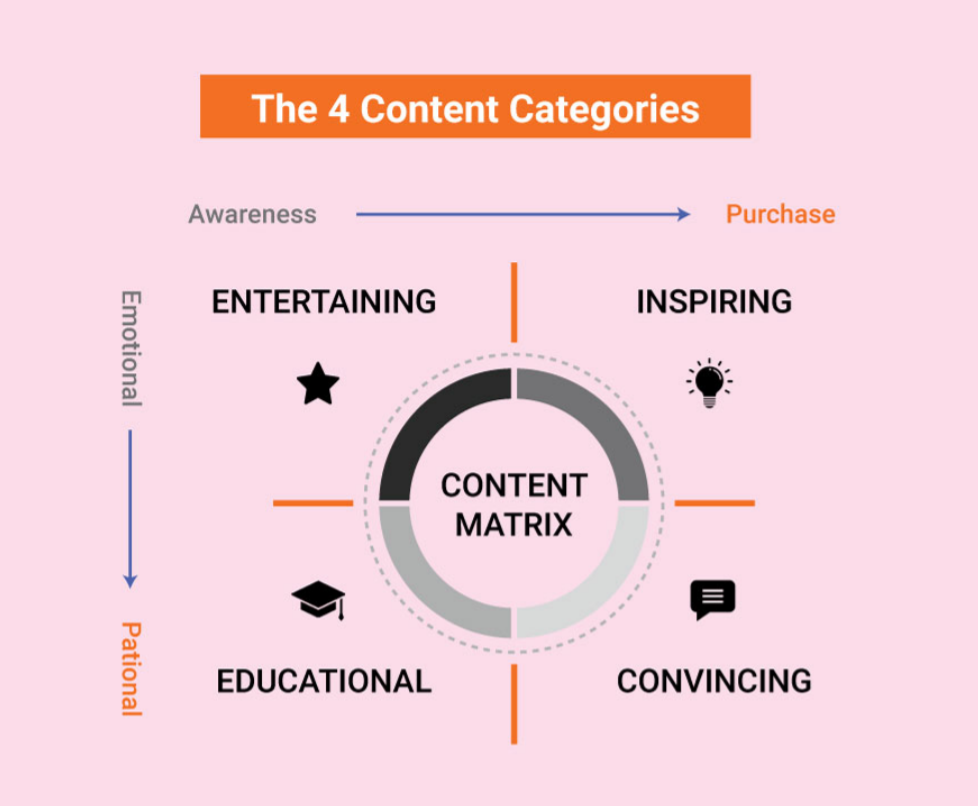 After you create your content map - also known as the overarching campaigns or pillars to guide content towards your goals - produce content and craft copies with clarity, honesty and conviction.
This will progressively draw your audience to follow your postings.
It's important to convey the purpose of your product, and its relevance in the industry rather than constantly highlighting its hero feature. Your purposeful content can be classified under 4 content categories.
Nobody wants an ad screaming at them; they want a meaningful cause to believe in.
With that in mind, promote engagement through valuable and useful content and encourage fan acquisition.
The KEY is to be consistent. Consistency in your messaging will help your audience remember and resonate with the purpose behind your product/service. Studies have shown that this is a large motivation that leads to purchase decisions.
If Apple marketed like everyone else:
Apple's actual marketing strategy:

What: We make great computers.

How: They're simple to use and highly efficient.

Want to buy one?

(Notice it starts from 'what' and not 'why')

Why: In everything we do, we believe in challenging the status quo.

We believe in thinking differently.

How: The way we challenge it is by making our products beautifully designed, simple to use and user-friendly.

What: We just happen to make great computers. Want to buy one?

See the difference? Consumers are directly affected by how they feel about your brand, before they're willing to spend. People are naturally drawn to a deeper cause in which they could believe in.
In order to turn your customers to followers, they need to feel and see your passion too. This brings us to our second point.
2. Show your competence and commitment with passion
An effective way to show your passion through social media is through your competence and commitment. Let's take the Body Shop as an example.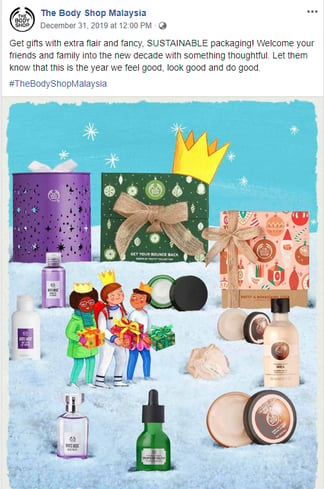 As a brand that offers natural cosmetic and beauty products, they encourage every individual to bring out the best in themselves by motivating self-esteem and accepting one's self.
In addition to that, they have been firmly opposed to animal cruelty and guarantees that none of their materials or products are tested on animals. With great pride and passion, they constantly support campaigns and causes relating to the preservation of our planet.
They take it so seriously, that they made sure their product packaging is consistent with their purpose. And they made sure to share that with their audience on social media too.
Following their footsteps, here's what you can do:


A) Post about the thought process behind your product.
Prove that you're driven to provide the best product/service. If you're having a brainstorming session, post a picture! Your customers will take notice of your hard work; they will come back for updates.
Make your customers sit up and take notice with your eye for detail and the passion to continually improve. It's about being able to challenge a negative impression and nurture it to a positive one. Such interactions are the way the consumers develop trust with the brand which will
Advance them from the consideration stage to decision stage

Continue being loyal supporters of the brand

B) Be meticulous and pay attention to details in FB Inbox.
Attention to detail in customer service involves answering queries, resolving problems. And even the little courtesies like personalizing a greeting or adding extra emojis 😍😎🤗to build relationships with the customer based on their demographics.
It's about communicating the fact that you are both passionate about your product and driven to give them the best customer experience. It's about showing them that you respect their buyer's journey.
A customer's experience could either be pleasant or frustrating depending on the management of these 'small' details. It will either urge customers to make a beeline for your company or head straight to your competitors.


C) Use Instagram Stories to boost customer engagement.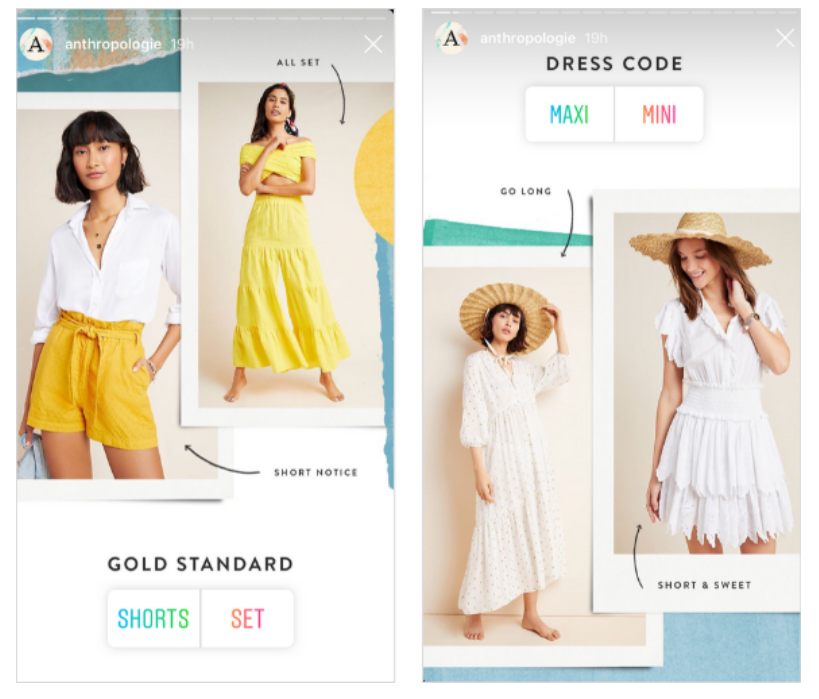 Instagram Stories give brands the opportunity to get more personal and to engage with their followers on a 1 on 1 basis. Utilize the IG stories default tools too, it doesn't need to be posh, keep it casual and fun! You'd be surprised - the more casual it is, the more engagement it'll get.
3. Explain the problems you're solving for them
Where there is pain, there is a need.
No matter what organization you're apart of, the purpose of your existence is directly related to a need you've discovered or a problem that you're solving. The problem, struggle, or pain was probably something you experience personally or a pattern that you have discovered through the lives of those you serve.
The pain points are often grouped into several broader categories. Here are the four main types of pain points that might resonate with your buyer's persona:
Financial Pressure: Your prospects are spending too much money on their current provider/solution/products, and you can help them spend less?

Productivity blocks: Your prospects are wasting too much time using their current provider/solution/products or want to use their time more efficiently, and you found a way to reduce friction & increase speed?

Process Frictions: Your prospects want to improve internal processes, such as assigning leads to sales reps or nurturing lower-priority leads. Do you have a simpler and more efficient software?

Support Deficiency: Your prospects aren't receiving the support they need. Do you provide caring assistance?
Step 1: Identify which category you're solving.

Step 2: Reflect - Do they know, that you're striving to solve their pain?

Or do they only know the product/service that you're trying to offer?
According to Wunderman, 79% of customers say that they want to know that the brand "understand and care" about them before they buy anything. With that, try these:


A) Take your prospect on the journey with you.

Don't be scared to show them the process/behind the scenes procedures that you can take to develop the product that's currently in your hands. Share what failed, what worked, and how you have improved!

Many companies would only dare to show the finished and perfected product. While that's great, you'll be surprised how showing them your sweat and tears throughout the journey would strengthen their trust in you.


B) Post testimonials and repost customer's content! (with their permission)
As social communicators of your product/service, are you conveying the proof that you have listened, digested and taken time to understand your customers?
We're sure you have. Kindly request them for permission, screenshot that WhatsApp convo, inbox message, or reshare the content they've posted about you!
Another thing - don't be too concerned about "directing" your customer's testimonial or telling them what to say. Give them the freedom to express their gratitude (yes, even with the grammatical errors)
Remember - a culture can be built around your product and service - and you shouldn't try to control how they are expressing their contentment about it.
Build trust and shape conversations for better customer experiences.
At the core of it all, it's about building trust, shaping conversations and learning the customer journey from beginning to end and then connecting the dots to create a remarkable experience.
Behind purchasing decisions, are investments of care and relevant content made to reduce the friction of a buyer's journey. People won't care what you sell, until they know why you care.
Enquire more about our social media services now. We'd be happy to answer your curiosities and help you grow your business together. We believe that helping people buy is the best way to sell.
In the meantime, download this PDF for a bite size checklist based on this article.