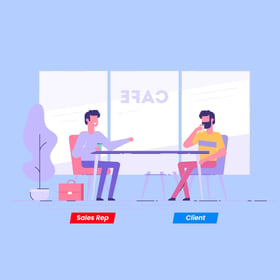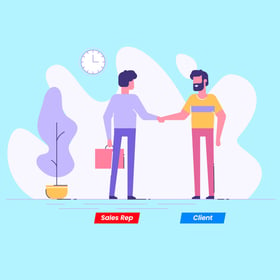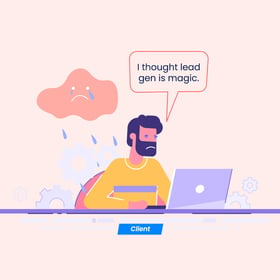 We hear your pain, how many more road blocks until you see a consistent flow of revenue?
You may have used a landing page before, but you're rolling your eyes at it now because your goals were not achieved.
As fed-up as you are, hear us out.
People use landing pages for all kinds of reasons. Their first impression of it is that it's a miracle quick-fix pill to get you all the profit your business goal demands for.
And believe it - landing pages are absolutely effective, but it's not the magic that some agencies claim to offer!
(Psttt.. learn the distinct difference between a website & landing page.)
Today, we want to make the common blinds spots up-front and known to you, so that you know exactly what you're signing up for.
With that being said, here are three things you should be thinking about:
1. Big commitment?! Landing pages
can't be the end point!
"Landing pages cannot be the end point of the buyer's journey. But rather used at the top of the funnel or in the awareness/consideration stages for your business strategy."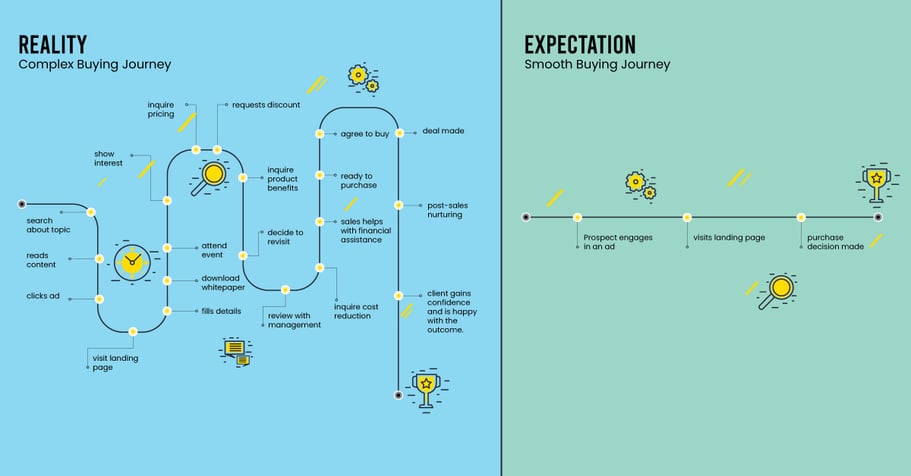 That's certainly true!
B2B selling isn't that simple because the buying journey is complex.
Think about it, everyone needs time to make big decisions. We're talking products worth up to RM300k or more, you'd need time too!
In some instances, it requires the approval of top level stakeholders before a purchase can be made. But as you can see from the graphic above, the journey is much more complicated than that.
So in order to understand the role of a landing page in your sales process, ask yourself the following question.
How were you selling your product without a landing page?

How did you convince your target persona to purchase your product?
Maybe, you'd buy data (which is illegal under MCMC), and cold call every single one of them until you find relevant prospects who could be interested.
Then, lure them to your demonstration event (with your charming sales pitch) where you'd have a better chance of qualifying them further.
But, the bad news is the data you purchased could be 5 years old; potential prospects back then, may not be potential prospects right now.
Plus, what if a few people changed their phone number? Or perhaps, bought a similar product from your competitors by now? Lead qualifying and nurturing within this mess is probably the reason why you can't sleep at night!
SO, instead of illegal and outdated data, our lead generation platform can bring to you RELEVANT & TIMELY leads.
Legal and effective - we got you covered!
In other words, the leads we generate are people who are genuinely interested in your product offering right now. The leads that we get you, helps you to escape from unproductive cold calling, and advances you straight to the process of follow-up calls.
They may or may not be ready to purchase yet, but just as the way you'd sell without a landing page, your process of lead nurturing has to be strong.
You need to help them along their decision making to increase the likelihood of them to trust you with their big commitment.
Here are a few suggestions to help them, by adding value to your landing page.
Link a downloadable whitepaper for a strategic installment plan.

Offer a discount that's worth their time.

Nurture them with helpful product-centric material.
These factors could ease your prospects' pain in this complex sales cycle.
Now, do you see why landing pages cannot be the end point of the buyer's journey? The buying journey is long and complex. If you still have questions, we are only a call away.
2. Don't Need A Landing Page Anymore?
Think bigger!
"Your out-of-the-box thinking will birth tactics and innovative action steps to remove friction and obstacles along your customers' buying journey."
Maybe you're reading this because you're curious about landing pages, and you think that it won't apply for your business.
Why don't you step out of that box and explore the possibilities of what landing pages could potentially offer?
Let's say you're from the Fast-Moving Consumer Goods (FMCG) industry, and you're thinking..
"I don't need anyone to generate leads for my business, it's called Fast-Moving Consumer Goods for a reason."
100% correct! But can it be used to your advantage nonetheless?
That's a massive YES!
Let's start with your intent. What are YOU looking for?
If foot traffic is what you want...
We could increase QUALIFIED foot traffic to your store! All for that new cosmetic product you're launching.
Tactically speaking, landing pages could be used to generate qualified and current leads that can be directed physically to your store.
Yup, you can clap for that.
Those are absolutely relevant leads screaming:
"Tell me more about your offering!"
"I'm ready to purchase!"
Especially since they have pre-ordered your product THROUGH the page they landed on.
We make that possible for you! 😃
That way you'd get to know your customer base better, which will help your marketing teams to create future-proof and effective campaigns as well.
That's right, that pivotal step is a direct result of out-of-the-box thinking that could birth tactics and innovative action steps for the larger buying journey.
3. Now, of course you want leads! But are your
expectations

out of reach?
"Strategy is and always will be the key."
We're speaking to those who sell niche products and services.
Niche meaning - it's not a common demand, and it benefits a very special group of people. If that's you, we've garnered great results for businesses like you before, but through experience, everyone needs the right expectation.
Yes, the online world is HUGE!
It's natural to think that there's a wide pool of potential prospects that are interested in your business.
BUT
Just because there are millions of people on the internet, that doesn't mean you'll receive a flood of leads that are high in numbers.
You will definitely still receive relevant leads! But it's not a number that you can compare with other products and industries.
A niche market will have a niche audience. In other words, low quantity can still mean high quality!
Here's a perspective shift:
Focus on your industry, and think of our landing page platform as your online sales representative with a powerful strategy that considers...
WHO your target market is.

WHERE are they located.

HOW are you solving THEIR problem.
Your leads out there! And we will give you an estimated number.
Your business is of utmost importance, and we're not here to play games either. Therefore, you can expect us to always #bereal with you - no sugarcoating involved.
Through the process of our partnership, strategy is and always will be the key.
Here's our advice:
Every business has a challenge. Uncover your business challenge, and we'll create strategies to work around them.

Build your Buyer Persona and thoughtfully answer the Business Questionnaire. With that we're onto a good start to launching the landing page.

Even if you've done it before, it doesn't hurt to revisit these foundational elements and further solidify your strategy.
Yes, it's a lot to take in, but we want you to achieve long-term success for your business. 😉
Speaking of success…
We're ready to develop a compelling action-plan for your lead generation campaign. Let's have a chat!