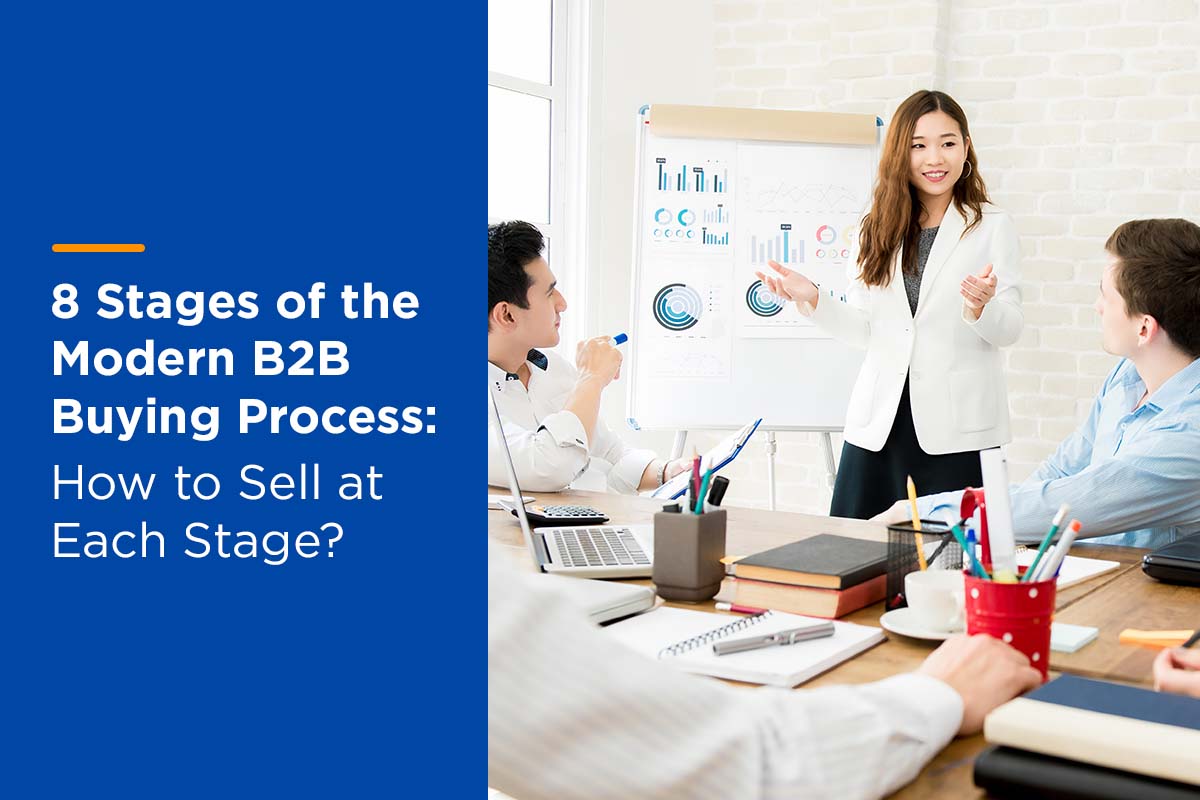 Organizational buying decisions are complex. Let's get that right off the bat.
Merge that with being the Head of Strategic Business, and phew! It gets more complicated.
Shaping your B2B sales and marketing strategies to make it past the organizational gateway and into the relationships with people making top-level decisions at a multinational corporation takes deep empathy.
The B2B buying process is a non-linear journey an organization takes to purchase from a B2B vendor for company growth.
Who you approach will impact the response you'll receive to your offering.
In fact, there are various characteristics and behavioural aspects that determine how they are influenced. Be it by individual, organizational or economic conditions.
As a B2B Business Head, your marketing & sales pipeline will involve supplying fitting information at each stage of the buying journey. Often what you'll find is the need for comprehensive pieces to guide their choices leading up to a final purchasing decision.
It's unlikely that they will decide solely based on the limited information that an advertisement provides. They're going to need much more than that.
And, that's where your process aligns with the customer intent, targeting the right audience, with the right offer, at the right time.
With that said, there are 8 stages of the B2B buying process you'll need to keep in mind and B2B sales & marketing approaches catered to the organizational buyer, directly shaping your overall business acquisition strategy.
1. Problem Discovery
Early on, the process begins when an employee in the organization discovers a need that could be met by collaborating with a good vendor. It can occur in a manner of internal or external triggers. Internal triggers could be a business problem that arises through operational errors, system flaws, or staff member actions. External triggers could result from a salesperson's awareness, an ad, or maybe even developments from your competitors.
For example:
Internal: The COO of Cooper & Co. finds an employee taking too much time entering his project updates into the system, which he notices is a system failure that needs changing for better ROI.
External: The COO of Cooper & Co. sees a Facebook Ad that shouts the benefits of a data-centric cloud system that might benefit his employees and improve the organization's workflow.
As the organization discovers a problem, you can begin to consider how your business will fit in the existing market to penetrate the opportunity.
Start by analyzing your competitors. Go to great lengths to understand their products & services, which will inevitably inform your penetration plan, helping you see a window of opportunity for awareness of your brand.
Here are some things to consider when doing so:
a. Unique Selling Proposition (USP)
What makes their offer unique?

Why should the prospect choose your brand over theirs?
b. Differentiators
Be mindful of their brand voice, content angles, products, and pricing.

What are the traits that embody their brand identity?
c. SWOT
Once you've gone through all of the above, examine your brand's strengths, weaknesses, opportunities, and threats to see where you stand.
2. Problem Definition
Upon acknowledging a need's existence, it's mandatory for the buyers to define it by forming a description that everyone understands. By doing so, stakeholders should understand its nature and the solution to seek. A visual viewpoint could be working alongside engineers, operational managers, sales representatives, and others to identify product characteristics and, with that knowledge, understand the product-related concerns.
You could strategize with your marketing department to use this as an advantage to influence their purchasing decision by having relevant content pieces ready for deployment, positioning your solution to address the organization's newly defined problem.
Supplying awareness, upper-funnel content should suffice for this stage. For instance:
Educational infographics

How-to tutorial videos

Blog posts

Customer success stories
As a result, the prospective customer will naturally discover your products and services, making them more open to a sale.
3. Product Specification
Next in line is technical specifics. Usually, the engineering department's responsibility is to create a few alternatives with sufficient detailing to ensure that it tallies with the organization's understanding of the solution needed.
This will be an excellent time to bring up analytics on those content assets you deployed to check for email open rates, video views, website visits so that you can tailor your contact approach with the prospect. We'd highly recommend creating a buyer persona with all your learnings, too. It will add strength to your foundation for successful B2B marketing & selling.
Then, with the right mindset, you can acclimatize your initial contact with the buyer and put your brand top-of-mind on the prospect.
4. Supplier Research
Now, the buyer determines the most suitable vendor. A review of the alternative solutions is conducted to identify if any matches the need accurately while evaluating good quality, value for money, and a possible partnership. Deeper investigations searched virtually to sift through company reviews, publications, case studies, and also consulting peers from other corporations for opinions and recommendations.
To ascertain the impact of your B2B sales & marketing strategy, you will need to grasp the buyer's pain points accurately to meet the needs of their investigation.
The Sandler Pain Funnel presents a series of strategic questions (in order) to better reveal the pain points driving the prospect's research.
The 8 questions are as follows:
"Tell me more about that…"

"Can you be more specific? Give me an example."

"How long has that been a problem?"

"What have you tried to do about that?"

"How did that work?"

"How much do you think this has cost you?"

"How do you feel about that?"

"Have you given up trying to deal with the problem?"
These qualifying questions will be instrumental for website optimization, choosing the appropriate case study or any credible piece of content available at a virtual location your buyer is likely to visit. You can then tactically position your content assets at the investigation phase with relevance for the buyer to increase consideration of your offering.
Get your page ready with:
Client reviews & ratings plus available contact details if they need verification.

Case studies on your product usage from actual experiences.

Downloadable content assets for consideration.
These will not only add value to their research but boost your chances of obtaining the deal.
5. Proposal Qualification
At this point in the journey, the organization qualifies the suppliers after notifying them to submit proposals. Depending on the vendor, some may only send a catalog while others a sales representative, but a detailed proposal containing product specifications, pricing, and being clear to address the buyer's needs are paramount. Developing such a proposal requires thorough research, skilled writing, and a compelling presentation.
Given the decision-making complexity, this proposal should closely replicate your overall sales and marketing strategy to target the customer.
Learn more: The Ultimate Guide to Writing a Killer B2B Proposal
Double down your game plan by ensuring maximum personalization. Set up a private meeting (physically or remotely) to tailor your sales pitch in-person to support, strengthen and elevate your proposal. As a Business Head, adding your insights to your salesperson's presentation will increase credibility.
While it is time-consuming and demands much effort & planning, it's phases like these that could make or break the deal, which all the more makes it worthwhile.
Deep dive into a few sales pitches here.
6. Supplier Decision
The buyer then skims through the proposals and selects one after evaluating the vendors under their consideration. The process comprises careful reviewing in areas such as capabilities, reputation, customer references, warranty, etc. Proposals are voted by top-level decision-makers using standard criteria, which helps them shortlist the highest-scoring vendors—then approach the selected ones for a meeting with talking points related to the proposal, negotiations, advantageous terms, and so forth. Ultimately, a decision will be made and finalized with a vendor.
Here's where your responsiveness will set the tone for this decision stage meeting. And, while you'll be tempted to treat it like another presentation with your elevator pitch taking the spotlight—we'd suggest, don't. Your salespeople have done all of that in the previous stage, and chances are they remember it.
Instead, you could prepare to use this opportunity to be a guide that simply steers the conversation and lets your prospect fill in the gaps. Ideally, you should be doing less talking and more listening to make them feel heard and understood.
In the moments you do get to speak, teach rather than sell. Offer advice to help them improve their business, and you'll quickly earn their trust and build on your credibility.
Learning to adapt your approach in this manner could take more practice than usual, but when you get the hang of it, you'll build long-lasting relationships with a huge business value.
7. Contract Finalization
Next, the organization determines the final order with the chosen solution provider, laying out the technical specifics, the quantity necessary, warranty finalization, etc. This period naturally calls for close management with the buyer to handle the nitty-gritty inventories and deliver on contract terms.
Depending on when you acquire a signed contract, the timing of your follow-up will need to be carefully thought through. Jumping in too soon or following up too often within a short period may cost you the sale at the last minute. On the other hand, if you're too nonchalant, you may not actually finalize the contract.
Studies from Forrester found that 59% of B2B customers prefer managing relationships on their own. This indicates a mindset of potentially not liking the idea of being pursued by salespeople or bombarded with irrelevant marketing collateral.
Growing the skill of balancing personalization, persistence, and perception requires understanding how your prospects like to be approached.
Delve into all your learnings from previous stages and encounters, and put yourself in their shoes. It goes a long way in determining your follow-up process.
8. Performance Examination
The final stage is often the organization assessing the supplier's performance after a couple of weeks in and providing feedback for future improvements, which either party may initiate. It'll tighten areas like efficiency, quality, customer satisfaction, and other facets.
Pro Tip: Conducting periodical surveys and adopting trackable metrics such as the SMART method will help ensure your customer satisfaction initiatives are aligned with your goals.
Your after-sales services should be top-notch to ensure the solution meets the customer demands and craft considerations for future strengthening that will improve customer satisfaction and maybe even gain brand loyalty.
Happy clients pave the way for valuable case studies and testimonials that could impact your prospective clients. Unhappy clients create opportunities to learn why things aren't working out and respond with growth-driven ideas.
In Closing...
It's important to note that the eight-stage buying process described above is only applicable to new tasks, which often involves a high level of complexity and deep involvement in the buyer's purchasing decisions as the Head of Strategic Business.
For straight and modified rebuys, organizations may implement condensed versions of the process. In some instances, certain stages may be irrelevant when a supplier has already been chosen.
Some corporations may find e-procurement processes ideal when routine buying is involved in which the selected supplier provides a variety of goods at a pre-negotiated deal. For example, corporation A has a pre-negotiated contract with a supplier that allows employees to order office supplies with an established ordering system that requires top-level approval. These systems enable customary approvals and cost controls for the organization to continue managing appropriately.
But, the bottom line is...
Your sales cycle can be shortened with inbound marketing (content marketing). Addressing needs and pain points head-on with blogs, webinars, case studies and other forms of content will solve problems for your buyers at the designated stage of their buying journey. And, demonstrate how your solution is the right and most optimal choice for their organization.
All said and done, sometimes having an actual scenario helps visualize better. We get you, and that's why we've made our case study FREE and accessible just for you. 😉
Download the case study below to get a clearer picture of the buying journey, pain points, motivations, and goals from a B2B buyer persona that will inevitably increase your impulses in leading your marketing & sales teams.